~ Digital Marketing Analytics Tools & Course
Online Marketing is an integral part of the growing business. If you see the growth reports of Online Marketing from Statista, you might get mesmerized.
Digital Marketing & Advertising Growth
Statista reports, the digital marketing and advertising industry across India had a market size of around 199 billion.
Indian rupees in the financial year 2020, up from just 47 billion Indian rupees in the financial year 2015. This was projected to go up to around 539 billion rupees by the fiscal year 2024, indicating a big growth in the online marketing industry segment.
The market size of the online marketing and advertising industry across India from the financial year 2011 to 2020, with estimates until 2024
Online marketing is driving results for businesses. And especially the one which has their major chunk of consumers and revenue online.
Digital Marketing Analytics plays a major role in this growth. It can be called the backbone of digital marketing.
Importance of Digital Marketing Analytics
Digital marketing analytics let you understand and analyze the progress of your online marketing objectives. You can not check what is happening after actions if there is no digital marketing analytics.
Digital Marketing Analytics helps you to understand the customers.
It helps you in product development and service development.
You can make data-driven predictions with the help of digital marketing analytics.
You witness each and every data point that you ever wanted to know with digital marketing analytics.
Understanding Marketing Outcomes made easy with online marketing.
You get to know about your online marketing objectives progress, and website traffic and each of the clicks that your audience does on your website.
You can optimize your business goals and results further with digital marketing analytics.
Digital Marketing Analytics helps to meet the objective of your business.
Dashboard metrics in online marketing analytics is the one-stop thing that you would love to check.
Impressions and Clicks are going nowhere out of your eyes when you are using digital marketing analytics.
Online Marketing & Advertisements metrics are measured and analyzed every min.
SEO Performance metrics are measured and analyzed with digital marketing analytics.
Your efforts are not going to waste.
Knowing Digital Marketing Analytics for the first time is exciting. Keep reading, this blog will cover most of the best digital marketing analytics tools.
The difference between Analytics vs Analysis
There is a plenty of misunderstanding about these two terms.
Analytics refers to "tools or platforms that analyze the data collected from your online marketing activity."
Let's say, you are running on Google Ads. You are spending a daily budget of 3,000/-. Definitely, you would like to know how your customers are interacting with your ads. You want to know whether they are converting or not, etc.
In such a case, you get to see a set of data in your Google Ads dashboard.
Here whatever data and graphs you get to see above, is exactly what most of the Online Marketing Ads platforms represents.
I will try to come up with a dedicated blog where I shall discuss, "how can you read the Google Ads Reports."
These data can be further analyzed and come out as concrete information about your online marketing performance.
As well as it can tell, what you need to improve in the digital marketing strategy and other business aspects, which will improve the revenue.
After analysis of the data, when you come out with the idea of your next Online Marketing Advertising Campaign, you are a smarter person.
Analytics is the reference used for the set of tools that help you collect your data, also helps to analyses.
Tools for Digital Marketing Analytics
Digital Marketing is vast. Any action that you perform to grow your brand with Online Marketing & Advertisement, brings you with multiple metrics to measure your performance.
Therefore digital marketing analytics exists because no info should fade out.
Last month, I had a client meeting. That company was running 3,000/- a day of Online Marketing Ads. The revenue was hardly 2,00,000/- INR a month out of ads.
Once we understood the metrics and analyses where it's going wrong, now it's churning more than 3,00,000/- INR a month with the same online marketing budget. I am only talking about Google Ads here.
Digital Marketing Analytics reports let you customize your dashboard and reporting options. It is a general rule for every tool.
Customization of reports is cool, as it brings ease to the process. Also, you get to discover all the parameters of digital marketing analytics.
In Digital Marketing Analytics, the goal should always be to generate insights that are untold in general. Such insights help you to understand your customer, their thought processes, and how you can better align your products/services according to their needs.
Many people take digital marketing analytics course just to understand "how to read the reports" and the breakthrough.
No doubt, there is some quality digital marketing analytics course you can take up today. At the end of the blog, I will address quite a few.
By using digital marketing analytics tools, you can check some very important aspects like –
If your content is performing well
Are you reaching your target audience
What is the best channel for your brand
Which channels have the best engagement for your content
How your audience can convert to a consumer
How can you drive better sales
Best Digital Marketing Analytics Tools of 2021
If you are a digital marketer, or freelance digital marketer then there are quite a few amazing options.
I will mention several tools that I have personally experienced. Besides that, there might be many. But these are the giant ones, without any second thought.
Google Analytics
We know Google has multiple products and most of them are successful.
Besides the search engine there are numerous successful products Google Inc. is running on. Among those the mostly used products are mentioned below –
Besides this, the other products are shown below –
To know more of Google's Products*
Among all these, Google Analytics is the one-stop tool that helps you with digital Marketing Analytics.
I have been a Google Analytics user for quite a long time. As well I help clients with this tool.
Google Analytics is amazing for digital marketing analytics. The data metrics you can measure with it are shown below.
You see the dashboard of Google Analytics.
Here we have metrics like –
Users
Sessions
Bounce Rate
Session Duration
Real time Users
You also have the date/days customize option, by which you can change that 7 days into 30 days, 90 days, or whatever you want. But make sure, that you had already connected your website with google analytics that long back.
Well, but that the dashboard of the old Google Analytics version. Now, it has been updated. Here is the new dashboard.
Most of the things remain same in the new version overall. But there are some changes.
To be frank, I really feel the last version was cooler. But overtime, the update seems interesting.
Dashboard metrics that you get to in the latest version are –
Users
New Users
Average Engagement Rate
Total Revenue
In both the versions, you can just click over one metric and the dashboard graph represents you a breakthrough of that, like this –
Here I have clicked on Sessions.
Google Analytics also shows other important metrics. Shown below –
If you are yet not overwhelmed, then click on each of these tabs to read the detailed report (not overview data) and it shows you a complete detailed report on every metric.
Google Analytics can be connected with your Website, App, Google Ads, Google Adsense etc.
The data from Google Analytics, can't be manipulated. And Google Analytics is completely FREE.
The above pictures I have shown are from both the last and updated version.
Google Analytics 360
The great Digital Marketing Analytics tool of 2021, but not for free-riders.
Google Analytics 360 provides the level of tools and support that enterprise are looking for.
It includes a service level agreement that covers fundamentals like –
Data collection
Data freshness
Reporting
Higher processing limit
Access to dedicated support specialists
It is a one stop solution tool for Digital Marketing Analytics.
Pricing:
Google Analytics you can use for free. But not Google Analytics 360.
$150,000 per year
Google Analytics 360 is $150,000 per year up to 500 million hits per month. This annual investment will increase if you surpass 500 million hits (each 100 million increment above 500 million).
How to Upgrade to Google Analytics 360?
To know about the reporting style and data sampling, this video might help you.
You can also register from here if you are interested.
Click on the image if you want to watch the video.
Google has also come up with some video tutorials for Google Analytics 360 users. Here is the link if you want to watch the same.
Difference between Google Analytics and Google Analytics 360:
The difference between the free and paid versions of Google Analytics is that the paid version, Google Analytics 360 has –
Service-level Agreement (SLA) obligations
Guaranteeing 99.9% uptime
Support
Data freshness
SEM Rush
By far, one of the best tools for Digital Marketing Analytics, SEO, Traffic Analysis etc.
SEM Rush claims to offer you creative insights on various Digital Marketing Analytics aspects.
Using SEM Rush, you can stay creative with your marketing campaigns & content. It offers 45+ marketing tool, which is as vast as it sounds.
This tool claims to have 20B+ keywords and 800M+ domains & much more. Best SEO Tool 2020 Winner. Their forefront services include Keyword Analytics, Site Audit, Traffic Analytics.
SEM Rush is definitely not a free tool, it is too much to be free, but you can always avail a free trial for 7 days.
I have been using SEM Rush for quite a long time. I have no complaints and always mesmerized by the digital marketing analytics they offer.
SEM Rush Tools
SEO Tool
SEM Rush helps you growing your traffic. It offers SEO Analytics tools & and Workflow.
The SEO features in this tool offers –
Uncover millions of national & local keywords
Analyze any domain's backlink profile
Run technical SEO audits
Track your SERP positions daily
Content Marketing Tool
Great Content Marketing demands great ideas. Content is the only thing that rules the search engine, social media and any successful media you take.
SEM Rush tool helps you to create content that ranks. It claims you need no expert knowledge to operate and understand their content marketing tool. Awesome indeed, isn't it?
Find topics that resonate with your audience
Get actionable tips to create SEO‑friendly content
Audit and improve your content based on real‑time metrics
Track brand mentions and content reach
Market Research Tool
Market Research plays a significant role in successful market campaigns.
As a digital marketer, I spend a lot understanding the competitor's actions and their audiences before I design a digital marketing strategy.
SEM Rush tool brings the opportunity to unveil your competitors' marketing strategy and tactics.
Although you have to have the understanding to drive decisions on marketing, SEM Rush makes it easy to an extent. And the data unveiling is awesome.
Analyze traffic of any website
Unveil competitor promotion strategies
Get ideas for growing your market share
Discover keyword & backlink gap
Advertising
Online Marketing demands advertising.
Although there are numerous tools for Online Ads, i.e. Google Ads, Bing Ads, Facebook, IG etc., SEM Rush bridges the gap between understanding how to reach more audiences, while spending less.
SEM Rush advertising let offers you the following features –
Find the best keywords for every PPC campaign
Monitor your competitor's ad copies and landing pages
Optimize your Advertising spend (at a local level)
Analyze Google Shopping ad campaigns
Social Media
In the last month, I had three inbound leads for Social Media.
Two were asking for ads, and one for some organic engagements.
Facebook and Instagram are the mostly used Social Media Platforms generating millions of leads a day for thousands of businesses.
SEM Rush tool offers effective analytical solutions for Social Media Marketing.
It offers automation, helps with your SMM Strategy, provides insights about how your contents are performing and much more.
Build your most effective
social media strategy
Schedule and post content on social
Analyze the performance of your posts
Track & analyze competitor accounts
Create & optimize social ads
SEM Rush claims to be an award winning tool. It has some amazing clientele. Checkout here.
Dashboard SEM Rush Tool
After reading the features, you might have guessed that the SEM Rush dashboard is extremely loaded.
We will have a walk-through of each aspect and discuss about it.
Below, you get to see, the Dashboard screen and the Projects Desk.
These are the features below, that you get to work on –
SEO Analytics Features
Each of these texts are clickable, and offers analytics.
Local SEO Analytics Features
Advertising Analytics Features
Social Media Analytics Features
Content Marketing Analytics Features
Competitive Research Analytics Dashboard
Management
Here is one sample report on SEO Domain Analysis I have shown.
To show all types of reports and its detailed explanation it might take more than 50+ long-form blogs like this. But if you want me to help as a Digital Marketing Analytics Consultant, you can. Check availability.
It is a domain analysis report in SEM Rush Tool, on www.amazon.in website.
Here is one complete report on Display Advertising Analysis that I have shown.
SEM Rush Academy
Like Google Analytics has videos for learning about the tool, SEM Rush offers a complete academy model.
It is an e-learning model, where you have various courses related to digital marketing. They also provide certificates for successful accomplishment of courses.
Most of the courses and certificates are free.
Click on the image to visit SEM Rush Academy.
Pricing & Plans
Having such an amazing interface SEM Rush plans comes at affordable pricing for businesses.
You can have a look here, and click on the image to know more.
To avail a free trial live demo with SEM Rush you can click on this picture.
I am an Online Marketing Professional, a Freelance Digital Marketer and Content Writer, and a Digital Marketing Trainer.
At any point, if you want to learn digital marketing, or interested to pursue a digital marketing analytics course, I can be helpful.
I have trained, over 300+ people and still counting.
a
hrefs
Every digital marketer out there, are crazy for this tool called ahrefs.
Ahrefs claims themselves the "All-in-one SEO toolse".
I have used this tool, it is just amazing, every penny is worth spending for the subscription.
Ahref is NOT FREE.
You don't even get a free trial with Ahref. The trial period is for 7 days, that comes around $8-$9.
Although, before you subscribe to Ahref, you can go through the following contents.
Team Ahref has created demo video contents for its customers. These videos show, how prominently Ahref digital marketing analytics tool churns the data to be an amazing insight and help to grow your business online.
Ahref helps you to check –
SEO Audit
Site Explorer
Keyword Explorer
Content Explorer
Rank Tracker
Ahref has a huge demand in the market as a digital marketing analytics tool. They claim in the last 7 days, more than 3,000 people have subscribed to their trials.
It also has a big clientele like Facebook, Adobe, Netflix etc.
Like Google Analytics and SEM Rush, Ahref also has free Learning materials.
I have very much tried and completed courses with SEM Rush and Google Analytics Academy, but never tried Ahref's learning materials. Given the quality of the organization, I am sure it will be brilliant too.
Here is a report on Backlink Profile on Ahref I have shared.
It is just 1% of what you get in this digital marketing analytics tool. Ahref is surely a tool worth subscribing.
Pri
cing & Plans
Ahref is a prominent digital marketing analytics tool. It worth taking subscription.
You might feel it's quite expensive than other tools. The pricing might not seem to be standardized to the audience.
Click on the image to check complete plans and benefits.
MOZ
MOZ claims to offer increasing traffic, ranking and visibility in search results.
They claim to be the smarter solutions provider as the best SEO Tool. MOZ tremendously helps in digital marketing analytics.
MOZ Features
Site Audits
MOZ claims to crawl your site on demand.
This tool uncovers technical SEO issues, and recommend improvements and fixes.
I use MOZ. If you run an agency or work on SEO, Digital Marketing Projects, it's surely a great tool to count on.
You can give site audit reports to your clients with the help of MOZ Digital marketing Analytics Tool.
Rank Tracking
MOZ can help you track the performance of hundreds (or thousands) of your traffic.
It let you know the driving keywords across 170+ search engines. Indeed a vast research tool.
The data MOZ shows is fresh and trustworthy. And with MOZ you can outrank your competitors on the SERP.
Backlink Analysis
MOZ promises superfast link index.
It can let you check the metrics of any site in seconds. The metric includes anchor text and Domain Authority. Awesome, isn't it?
After using the MOZ Backlink Analysis, I must say they have done some awesome work for digital marketers out there.
Keyword Research
MOZ provides you with keyword ideas, keyword difficulty score and competitor research.
MOZ offers brilliant keyword research potential and insights.
Like the other top Digital Marketing Analytics tools, MOZ also has a well-known clientele which includes Zillow, Trivagom, 99Designs etc.
Dashboard MOZ Analytics Tool
It is how the dashboard of MOZ looks like.
All the features are visible and ready to trigger.
Below here, you get to see a report of keyword research in MOZ.
In the below image, you can see several features are locked. These features you can avail with MOZ Subscription.
MOZ free log-in also has limited hits/searches. You can do a maximum of 10 hits with the free version.
Here is a report of site overview in MOZ.
Here is a report of free domain SEO Analysis in MOZ.
Click here to do free Domain SEO Analysis in MOZ.
MOZ Learning
MOZ blogs are extremely popular.
It can help you too learn SEO from experts.
You can also see their learning dashboard in your homepage like this below image.
The are mostly blog contents, the quality is super awesome.
MOZ has come up with a Technical SEO Certification course. It is a paid course. You can have a look here, click on the image below to know what they are offering.
Pricing & Plans
On a yearly subscription with MOZ, you save 20%. The above chart is set to Yearly mode. Click on the image, to know plan details.
HubSpot
HubSpot is a very popular name among Inbound Marketing tools.
They have sort of created an empire and great recognition amongst the digital world.
As a HubSpot user, I am always mesmerized by their way of representing data and building content.
I have used mostly all Hubs tools.
Email Marketing, Analytics, CRM, all the tools HubSpot offers are spot on.
No doubt, it is a paid tool.
You can use HubSpot analytics tools to understand and analyze your HubSpot data. This includes your website's performance and your teams' productivity.
Your analytics tools are found under Reports > Analytics Tools.
HubSpot Analytics Tools
HubSpot provides the following tools for Analytics.
Traffic Analytics
HubSpot traffic analytics feature let you Analyze your site traffic with the traffic analytics tool.
It also helps with traffic sources, as in, from where you are getting the traffic and create custom reports like Google Analytics.
Ad Analytics

HubSpot tool, helps you to analyze the performance of your Online Marketing Ads.
It can be connected with Facebook Ads, Google Ads, and LinkedIn Ads accounts.
HubSpot digital marketing analytics tool shows ad performance data. Such data metrics are impressions and clicks.
On your ads dashboard, you can analyze the data from each of your connected ad accounts, and drill into the performance of individual ad campaigns.
Campaign Analytics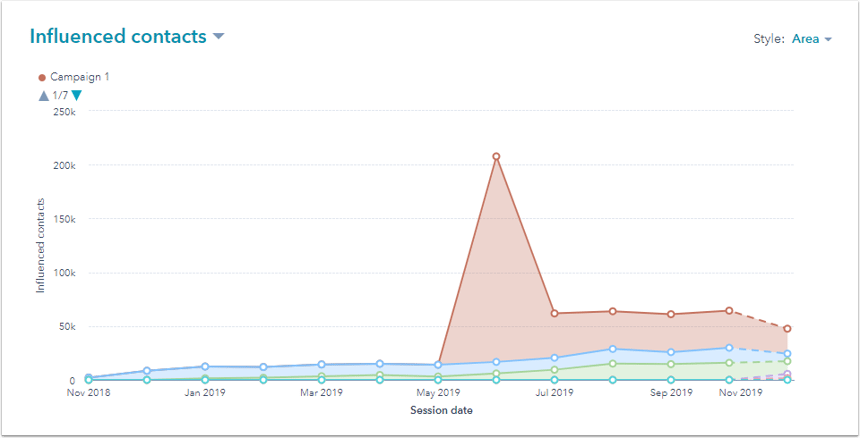 HubSpot helps you to Analyze campaign performance in the campaign analytics tool.
It helps to measure the effectiveness of all the campaigns you've created in HubSpot.
Behavioural Events Analytics
Behavioural Analytics let you Analyze and manage your events with different prominent tools.
It has features when you can create visited URL events and submitted form events.
HubSpot's clicked element events and custom event are good features where you get more power.
Analyze various completions with the behavioural events analytics tool and see how many events are completed in a certain time-frame.
Contact Analytics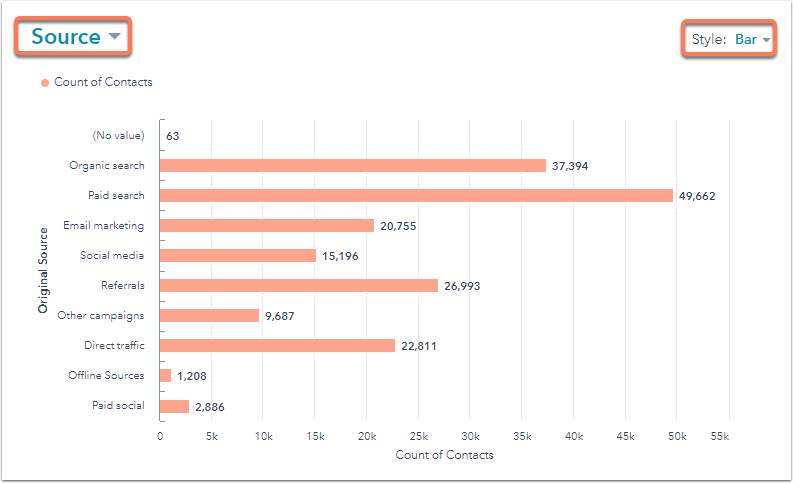 HubSpot offers the contact analytics tool to break down your contacts in different aspects like –
Source
Lifecycle stage
Country
Create date
Activities
It let you analyze trends for a specific list of contact. You get to work on the saved filter or across your entire contact database.
The Contact Analytics tool is quite unique. For businesses, as they use a lot of CRM data for leads, this tool is an on point solution.
To access the Contact Analytics in your HubSpot account – navigate to Reports > Analytics Tools > Click Contact Analytics.
Sales Analytics
HubSpot Sales Analytics let you create sales reports with ease.
It directly helps your sales managers and their team members to understand better how they are performing.
Indeed an awesome way to drive a fruitful business.
HubSpot derives these reports from the values of certain default deal properties and deals pipeline settings.
It may not be required for all startups, but for big businesses, these custom reports can help amazingly.
Sales Content Analytics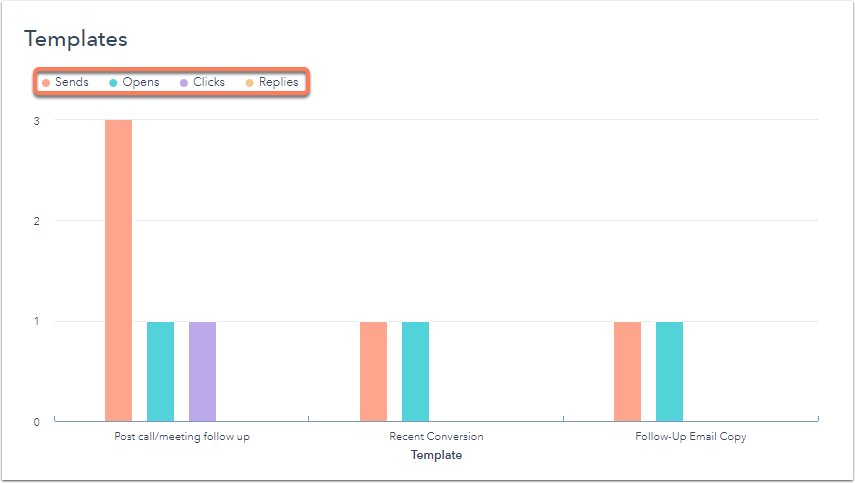 HubSpot brings this feature completely for sales reports and analysis.
After creating sales templates, documents, and sequences, you can analyze their effectiveness using the sales content analytics tool.
It also lets you export your data or save the chart as a report.
There are other functionality that this feature offers.
Sales & Service Team Productivity
The Service Team Productivity report of HubsPot tool represents your service team's performance across tickets.
This data can also be exported and saved as a report.
To access this tool – Navigate to Reports in your HubSpot a/c. > Analytics Tools > Service Team Productivity.
Always note, all the above features in HubSpot tools work with integration. This tracking code lets you do a lot of actions.
HubSpot Academy
Like other digital marketing analytics tools, HubSpot also has online academy.
HubSpot online academy offers several types of courses. Most of these courses are dedicated to online marketing and technology.
The HubSpot academy also offers digital marketing analytics course.
I have been an old fan of their courses. I have completed several courses in HubSpot academy, got certificates too. The content is good.
The best part it, most of these courses completely free with certificates.
To register with HubSpot academy, you need a domain email id. You can still try once if they are accepting your registration with G-mail id addresses.
HubSpot Blogs
Same as I said for MOZ, HubSpot blogs are also super popular among marketers.
Content quality, content design everything is inspiring what they do.
I have been following Hubs Blog since quite a few years now. Really appreciate their detailed content.
If you are also into digital marketing, digital marketing analytics, IT, Inbound Marketing or similar domains, you should give it a read.
HubSpot Pricing
Well, it is the main part for "To be Hubs users".
I won't say that pricing is cheap. But what they offer in the plans, definitely worth charging the users.
Besides the pricing, here are some free digital marketing analytics tools from HubSpot.
To check complete plans, click on the image above.
Google Search Console
Google Search Console is another product by Google.
The major work done by Google Search Console is that it allows webmasters to check indexing status and optimize visibility of their websites.
You can give indexing/crawling requesting to Google Search Engine with this tool.
Search Console amazingly helps to understand several digital marketing analytics metrics.
It is one of those tools that was called Google Webmaster Tools. In January 2018, Google introduced a new version of the search console, with changes to the user interface.
The latest interface is user friendly and fast.
Dashboard & Services
I am a user of the Search Console. Here I have shared the reports that you get to see in the dashboard of this digital marketing analytics tool.
You will get to know about the metrics Google Search Console offers to its users in the reports.
Overview
It is the Google Search Console overview dashboard.
This graph denotes the total number of web search clicks that have happened in your website.
You can just hover over on any graph waves and check, in that specific day, if you have got any clicks.
You can check, in the first hover image, I have got no clicks, that is Click on my Website URL or Domain. But in the second one, I have 4 clicks. Quite interesting to witness right!
Coverage
Coverage dashboard report let you know the errored pages and valid pages. It is a major feature of webmaster tools.
Every dashboard has got an option of Open Report, which let you get a complete view of a detailed report on the same. The top right option in the image.
Enhancements
The metrics under enhancement dashboard let you know if there is any dispute or error in the web pages.
You can see, under Mobile Usability, the number of valid pages and errors are mentioned. Same with the other factors. Such a direct approach to understand website heath.
Below here are the reports of Google Console detailed analysis.
Performance
Google Search Console Performance analytics report on your website let you explore several important metrics.
It can help you to understand metrics like –
Total Clicks
Total Impressions
Average CTR
Averahe Position
The good part here is, you can deselect any metric in the top view and it will turn off the graph of that spec. Further you can check the other available metrics with an easier visual. Have a look in the below images –
It have multiple metrics to measure on Performance.
Other metrics such as –
Queries
Pages
Countries
Devices
Search Apperance
Dates
In the image above, you can see I have clicked on Devices and it is showing me information about the devices that my website intaracts with.
You can click on any of the above metric and check details.
The services doesnt stop here. Google Search Console provides the below features as well. These features are shown it the left sidebar of the tool.
Sitemap Submission
As mentioned in the begining of Google Console introduction, it helps to crawl – index your web pages.
In the "Enter Sitemap URL" box, you can enter the URL, and submit. It will take your index request n priority for Google Search Engine.
Remember, this Index request if for Google only, not specifically for other Search Engines.
Besides this, the "Links" feature in Google Console gives you a one-stop display of all your live links in the connected domain and much more.
The best part is, Google Search Console is absolutely Free.
Digital Marketing Analytics Course
Learning online marketing can be beneficial in several ways.
You can grow your startup with online marketing and digital advertisements.
You can make a career out of it. Given that Online Marketing and Content Creation gives you a kick, you can learn online digital marketing courses officially and become a marketer.
If you want to become an Online Marketing Consultant or Digital Marketing Professional then courses like Advanced Digital Marketing, Digital Marketing Analytics would extremely help you.
If you have recently started your online marketing career, then you can grasp the digital marketing analytics course as well.
There are several Digital Marketing Analytics Courses I can share with you.
Digital Marketing Analytics & Specialist Course | Simplilearn
Advanced Digital Marketing Certification Program | Kallada Academy
Certificate Program In Digital Marketing And Applied Analytics | IIT Bombay Executive Education
Digital Marketing Analytics in Practice | Coursera
Marketing Analytics Courses | edX
Digital Marketing Analytics Course: Tools and Techniques | edX
Digital Marketing Analytics Course | Udemy
Digital Marketing Analytics Course | MIT Management Eecutive Education
Note – Besides Simplilearn and Kallada Acaedmy, I am not so confident about the course modules of digital marketing and digital marketing analytics course.
All the mentioned ones seemes trust worthy and genuine hence I wanted to drop the links for your help.
Go through the digital marketing analytics course modules properly before you enroll.
If you are willing to learn complete online marketing, then also go through the detailed modules.
Just by clicking the images, you can visit their course page.
There are other plenty of tools to do digital marketing analytics. Here I have named a few qualitative and popular ones.
MixPanel
KissMetrics
Oribi
Heap Analytics
CrayEgg
Formisimo
Crowdbooster
I will try to come out with a separate blog about the above-mentioned tools as well.
Also, I am planning to deliver a content about best automation tools for online marketing.
Thanks reading this blog.
I am an Online Marketing professional and Content Pro. Helping business to grow online with digital marketing.
To let you know, I train people on Online Marketing, Digital Advertising, Content Creation, Digital Marketing Analytics Course, SEO and the entire arena of Digital Marketing.
You can connect with me in need.