After becoming a certified digital marketer, its quite obvious, that you might want to start digital marketing freelancing.
For those who doesn't know what is freelancing –
What is Freelancing?
Words – Freelance, freelancer, or freelance worker, are the words or terms commonly used for a person who is self-employed, sells his/her skills by working on specific projects and earns a living out of it. A freelancer is not necessarily committed to a particular employer long-term.
While freelancers do take on contract work for companies and organizations, they are ultimately self-employed. Freelancers are not considered "employees" by the companies they work for, but rather called, freelancers/contractors.
A freelancer can have a team of his own to work on big projects and it might not be a registered company, depending on the regulations.
Freelancers can work on long term or short term projects and a person can become a freelancer having acquired any skill. Like Digital Marketing Freelancer, Content Writing Freelancer, Freelance Coder, Freelance Software Developer, Freelance Designer etc.
I am a digital marketing freelancer, and including Content & Web designing, I pretty much take care of all the 360 degree services that comes under this digital marketing umbrella.
I have been freelancing since quite a long time, like its going to be a decade now and I can say, I have quite some experience in this domain to become a consultant.
Right after completing your digital marketing course, you may also want to start digital marketing freelancing. That's quite a good idea and I would appreciate you to go forward with it. But the important question is, what services would you exactly provide, and how do you acquire clients?
Regarding acquiring clients, I will create a separate blog. But in this blog, let me show you some great skills on Digital Marketing, selling which you can become a digital marketing freelancer.
Digital Marketing Freelancing Options:
Content Writing | Content Marketing & Search Engine Optimization
SEO or SEARCH ENGINE OPTIMIZATION is one of the best options to work on as a digital marketing freelancing.
Content Writing services has got a great demand out there if you can become a good website content writer.
If you're a good with words and your fingers goes faster on the computer keyboard, then content writing is something you can take up in digital marketing freelancing.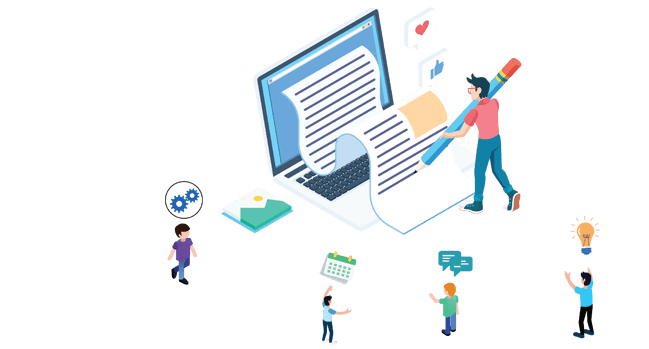 Content Writing & Content Marketing is the pillar of digital marketing. So every business has the need of Content.
Starting from billboards to big shot e-commerce businesses like Amazon etc. they need articles or website contents for their business. You can write for their products, you can do copy writing, and make money with digital marketing freelancing.
It's one of the most useful skills for any digital marketing freelancer.
The same goes with SEO and Content marketing.
Be it any website small or big, SEO stands as the foremost demand of their business. They have to do better than their competitors and rank at the top of the SERP. Therefore, Search Engine Optimization and Content Marketing plays a significant role in digital marketing freelancing.
I can help you learn the same, and here are some SEO tools that could help you in this process such as Ahrefs, Semrush, Moz, Linkio, Ubersuggest.
Here are the links for these tools and blogs –
Website Designer
If you have been trained on Website Designing, and now know how to design a website with the help of WordPress, WIX or you can Code, then Website Designing skill can give you a ton of clients.
Also you have to understand that, Web design encompasses many different skills and disciplines in the production and maintenance of websites.
The different areas of web design include –
Web Graphic Design
Interface Design
Authoring
Including Standardized Code
Proprietary Software
User Experience Design
Content Writing
Search Engine Optimization
You might not have all the skills now, but a training with me may help you.
Otherwise, no need to worry, if you know how to work on web designing well, you can always have a person with you for content writing and graphics, all will be sorted.
Once you are a freelance web designer, you work on projects that are given by different scale of companies. You design their website with the help of WordPress, WIX or even code with HTML or PHP, and then you get paid.
Social Media Ads | Facebook Ads, Instagram Ads, Google Ads
Facebook Ads has a huge demand, and so as Instagram Ads.
There are quite a few businesses who have their in-house team to manage their social media ads. But a lot of small businesses and even some brands find it very complicated.
If you acquire the skills of Social Media Ads or Search Engine Ads very well, then you can grab these projects.
As a digital marketing freelancer, you can work on Social Media Optimization and Social Media Marketing. All the companies and individual celebrities have their profile in all the social media today. If you work on any of such projects of Social Media Marketer or Social Media Optimizer, you can earn well as a freelancer.
There are a lot of brands looking for someone to manage their Ads and this is definitely not a full-time job. I'd say it's more about monitoring the Ads and making sure you constantly optimize them. Also, learn more about sentiment analysis to understand how to better optimize your ads.
If you are trained under me, then I make you learn Google Ads, all types of. As a digital marketing freelancer if you know how to manage Google Ads, then you can take up any Google ads projects of any company and run their ads online on search engines. With this digital marketing freelancing, you can easily earn decent commissions on such projects.
Initially things might be little difficult to learn. But once you learn how to manage ads and gain drive better revenue, you can run the whole game.
In digital marketing freelancing, if you are doing social media or search engine ads, then they will ask you to full-fill the targets.
Such a target can be –
Driving Traffic
Driving Leads
Generating More Revenue
Generating Sales
Reputation Management
Shopping Sales
Awareness
Remember, digital marketing freelancing is as serious as working under a team of agency/in-house or running a serious business, so at the end of the day you have to meet the targets.
Same as Google ads managing projects, you can run and manage advertisements on Social Media or manage their Social Media Accounts. Social Media platforms like Facebook, Twitter, and LinkedIn etc. all have their ads to run. Similarly, you can take up social media ad projects and make money while doing digital marketing freelancing.
Graphic Designing | Web Graphics Designing
Creating web copies, graphics, illustrations and pictures is one of the high demanding skills in the digital media.
As a freelance graphic designer or web graphic/illustration designer your work is to work is a craft where you would create visual content to communicate messages. You can bag such projects in any digital media, even in offline media, like newspaper,hard-copy magazines and what not.
As a designer, you work on a visual hierarchy and page layout techniques. So, no doubt you need to learn this skill, and you have to have a sense of design, colors, angles, typography, pictures etc.
A Freelance Trainer | Digital Marketing Consultant
Well, this one might not be choice for everyone but for quite a few people.
As a digital marketing freelancer, when you end up gaining 5+ years of experience, you can easily train newbies to do better or learn digital marketing, content writing, website designing, SEO etc. from scratch.
Trainers are highly demanding in the corporate as well as academic industries. In digital marketing freelancing, taking up training can be a great way to create your brand as well as bag great projects. Not to forget the fruits your get out of it.
Websites like UrbanPro, Udemy and many more, are places where you can register as a trainer, upload your courses or give live training and earn as a freelance digital marketing trainer.
Digital Marketing Trainers are required in different companies where they want to upskill their employees with online marketing skills. You can even officially associate with different academics or organizations as a freelance trainer and provide dedicated hourly services to them.
I have been working as a trainer since quite a long time. Have served multiple companies as a trainer/consultant. Check my LinkedIn profile to know more.
No doubt, you have to become a subject matter expert in whatever training you do. As a digital marketing freelancer or online marketing freelancer you can take up any of these –
Digital Marketing Trainer
Content Writing Trainer
SEO Trainer
SEM Trainer
Graphic Designing Trainer
Website Designing Trainer
Social Media Marketing Trainer
Inbound Marketing Trainer
Email Marketing Trainer
Digital Media Analytics Trainer
Also, your communication and presentation skills has to be excellent. There are many professionals who are great with the technical but off with the presentations. It wont work as a trainer, you have to nail it as a presentation if you want to become a freelance digital marketing trainer or consultant.
How can I get projects for digital marketing freelancing?
Ok, it's a valid question now.
Well, you can bag such projects in many ways, lets talk about those.
Freelance Stock Websites:
There are many freelance stock bidding websites, where you can go and bid on a project of your choice as a digital marketing freelancer. Then given that the client likes your bid and proposal, he assigns you the project.
There are some very popular websites as well where you can offer digital marketing freelancing services. Then the seekers get to know about your offer, and they order you a service.
In digital marketing freelancing websites you can offer any services that I have mentioned above. For your information, remember these freelance websites are not ONLY 4 Digital Marketing Freelancers. Such websites are open to all domains. So any freelancer can come, do the registration and provide services on the desired niche.
Also, not to forget, the competition is good, so in case you are thinking that you will just register, bid on a project, or make a offer and the projects are all your's then wake up. Its not going to happen.
What all you have to do as a digital marketing freelancer is this –
Open the website – Register with your email id. – Create a kick-ass profile – Showcase your portfolio (most of the freelance websites has a dedicated section for portfolios) (or you can also create an account in Behance.com or any such third-party website for your online portfolio) – Include your contact details – Give a quality banner image and profile picture – Complete the profile 100% – Verify that its you – Verify the Payment method (be-aware of privacy/security issues) (do it only with trusted websites)
Start bidding on digital marketing freelancing projects / Start creating offers as a digital marketing freelancer – Make an awesome bid – Write an amazing proposal – Bag the project – Deliver the project on time – Get your reward (try taking advance before starting) (Be-aware of fake people) (understand the website navigation well) – Get a positive review for your work
What are the websites for digital marketing freelancing?
Here the websites where you can create your account as a digital marketing freelancer.
Remember, there are many such websites for freelancers, but all are good. As few of those doesn't have any real project, also there is no engagement in those websites. Such websites are still working to become a big player in the market and you can say also in the market of gigs economy.
Here is the complete list of the 25+ websites for digital marketing freelancing:
The websites that I have mentioned here are starting from the best and most active to the least active ones. You can select that which one you would want to explore and try. I have massive experience as a freelancer, and I have tried and worked on most of these websites, so I feel I would be the right person to suggest you one. You can also book me as a consultant here.
www.upwork.com
www.freelancer.com
www.peopleperhour.com
www.toptal.com
www.designhill.com
www.weworkremotely.com
www.simplyhired.com
www.flexjobs.com
www.dribbble.com
www.udemy.com
www.urbanpro.com
www.fiverr.com
www.guru.com
www.writerbay.com
www.writeraccess.com
www.designcrowd.com
www.99designs.com
www.superprof.com
www.obuhi.com
www.truelancer.com
www.experts.webflow.com
www.worknhire.com
www.tapchief.com
www.hireable.com
www.skyword.com
www.taskrabbit.com
www.nettcode.com
www.workofy.com
www.workana.com
www.krios.com
All the best.
Do not hesitate to connect with me for further help.