~ Best WordPress Plugins | Master Checklist of WP Plugins 2022
If you are running your online business through a WordPress website, then this blog is like a lifeline for you.
We all know WordPress is the best CMS out there that helps to build integrated websites. Without having a coding skill, if you got to design a fabulous looking and supremely functioning website for business, then WordPress is the one-stop solution.
It is different, that you can even embed coding and customizable actions on WordPress. You got to know PHP, CSS, and HTML for that.
Well, I really wanted to come out with this blog as a website designer and WordPress expert, and here we go.
It is about the master list that I have prepared for all the WordPress users out there. It includes the best WordPress Plugins that too category-wise.
This best WordPress Plugins list will show you each and every integration options that you can use for your WordPress website. And you can refer to this, whenever you are stuck. For example, if you are looking for a WordPress plugin list for e-Commerce solutions, you get it. If you are looking for a WordPress plugin list for Security, Website Designing, and LMS solutions, you get it here itself.
For a better catch, I have even created a mind map, which you can download. And guess what, it is all free.
If you are starting with WordPress as a newbie, and you don't know what exactly is a WordPress plugin and what is the function of such plugins, then before you check the best WordPress plugins list, know about it here.
CLICK ON THE TITLE OF THE PLUGINS IN THE LISTING, TO LAND ON THE PLUGINS DOWNLOAD PAGE.
[ Plugin is a piece of software that you can integrate with any primary platform or WordPress. So plugins can be used in any operating system or application.
A Plugin contains a group of functions that can be used as add on features to the application. The same happens with any WordPress plugins for a website where it enhances the efficiency of the website.
WordPress Plugins can extend functionality or add new features to your WordPress websites. Most of these WordPress plugins are written in the PHP programming language and integrate seamlessly with WordPress. Any WordPress plugin can be downloaded from WWW.WORDPRESS.ORG. ]
Best WordPress Plugins | Free WordPress Plugin Checklist 2021
~ Best WordPress Plugins | Master Checklist of WP Plugins 2022
Check the best WordPress Plugin list. Here you get to know about the best plugins to select for every category that you want to feature on your website.
We have divided the WordPress plugin list into categories for better understanding.
WordPress Plugin List for WordPress Web Page Builder | Best WordPress Plugins
Elementor Page Builder Plugins
*Note – There are other plugins as well for web page building on WordPress. As per my experience, Elementor Plugins are the best, hence I have kept the Elementor List on the top. But I am planning to add all the other plugins for web page building as well soon. That list will appear here only.
WordPress Plugin List for SEO & Content Writing | Best WordPress Plugins
WordPress Plugin list for Search Engine Optimization and Content Marketing
SEO Content Tools by SEMRush
You can also use SEMrush SEO Writing Assistant, but that is not a WordPress Plugin. It is used in Google Docs, in case you are not using WordPress as a CMS and you are coding your website, or if you are a content writer, then it is an amazing plugin. You can get it here SEMrush SEO Writing Assistant.
Optimize Your Content for User Intent and Search Engines – A good piece of content meets the needs of your audience and is highly visible online. To make sure your copy complies with both requirements before publication, you have to take into account various parameters. Using SEO Writing Assistant, all you have to do is type your target keywords for a copy to get a list of actionable SEO recommendations.
WordPress Plugin List for Integrated Forms and Opt-in Forms | Best WordPress Plugins
Forms are an integral part of any type of website. It helps to collect information on the prospects and do better lead generation.
There are numerous plugins for forms to use on WordPress. But not each of them is great with the UX.
As per my experience, I have enlisted the best three here. Each of these ones is well customizable and user friendly. You can also collect the leads through these forms faster.
I quite appreciate forms that are opt-in. An opt-in is a form of consent given by web users, acknowledging interest in a product or service and authorizing a third party to contact them with further information.
The below forms are as well used for email integrations or email collections. I have also listed the best ones for push notifications. That also gives you data on emails of those who subscribed.
Here is the list of integrated forms for website opt-in options and WordPress Plugins.
WordPress Plugin List for Integrated Subscriptions Or Login | Best WordPress Plugins
WordPress sites as always been amazing for Blogging, LMS and Ecomm. Well, in all these three site setups logins is something that would stand mandatory. You can ignore logins in blogging though but not in the other two.
Here are a few high-quality plugins that you can use when it comes to deploying the same on your WordPress website.
Buying themes is the best decision when it comes to offering a signup option to your audiences. Because I really find no fruitful plugins in this space that works well and offers good integration.
Here are a few sources from where you can buy any kind of theme for your WP or WordPress website design.
Themeforest is like a one stop solution for a tools, Themes, Plugins that you try to find for WordPress.
Here is a quick glimpse of how themes search looks like, enabling this with a ton of relevant features.
Note – Read the reviews and compatibility before you purchase any theme.
Template Monster is pretty much like Themeforest. Yes, the navigation is not the same.
In Template Monster you have multiple options. You can purchase –
WordPress Templates
HTML Templates
Shopify Templates
WooCommerce Templates
PrestaShop Templates
Joomla Templates
PowerPoint Templates etc.
As I said, more than this or less you get as well on similar stock platforms.
You have monthly subscriptions in such stocks as well. Such subscriptions can help you buy multiple tools throughout the month or year without paying anything extra besides the subscription. FYI, Themeforest is the same. By the way, such subscriptions help in the long run.
Here is a glimpse of how it works.
WordPress Plugin List for Popup Integration | Best WordPress Plugins
Popups are a very good marketing tool for websites and apps.
Pop-up ads or pop-ups are forms of online advertising on the World Wide Web. A pop-up is a graphical user interface (GUI) display area, usually a small window, that suddenly appears ("pops up") in the foreground of the visual interface.
Here are two examples of popups.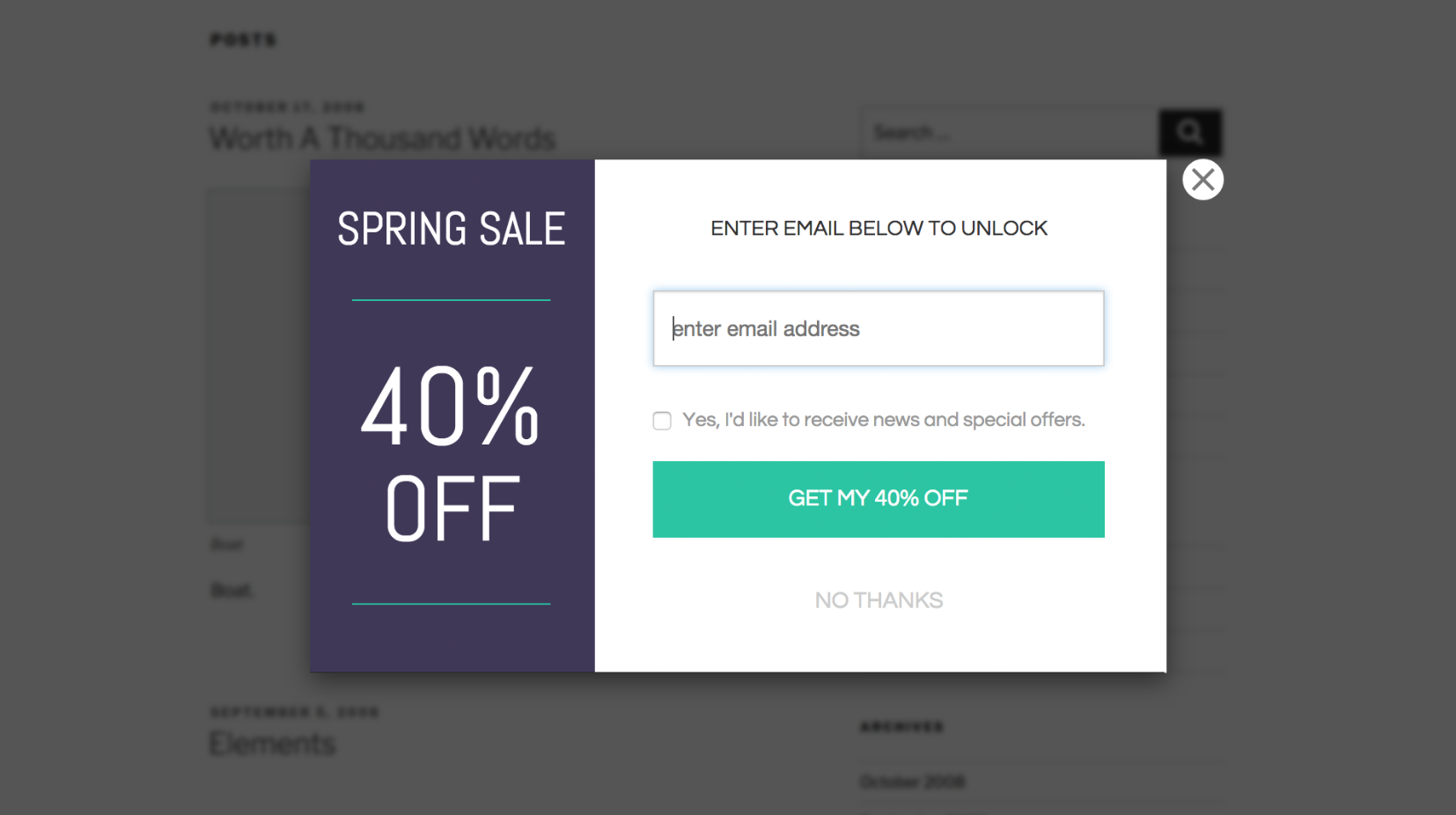 Not only on-site load, but even on specific clicks you can set up your popups.
Here are some high-quality plugins for popup creation and setup.
WordPress Plugin List for E-commerce Setup, Feature Integration, Payment Gateway, E-commere Analytics etc. | Best WordPress Plugins
Ecommerce websites are an integral part of doing online business.
WordPress CMS offers seamless integrations for eCommerce website creation both at a free range as well as with the same tool's subscription version.
Starting from designing your eCommerce store setup, payment gateway setups, carts, cart flows, product listing, offers and marketing, everything you can do with WordPress eCommerce integrations.
Here are some of the plugins for the same. With the above plugins, I have experienced these as well. And my feedback on these is very positive.
WordPress Plugin List for Landing Page Creation and Integration | Best WordPress Plugins
The landing pages are amazing. Be it you want to create a dedicated or stand-alone web page for your product or services and include the FAB – Features, Advantages and Benefits of the product/services, Landing Pages are game-changers. An LP is a sales page or conversion page.
A landing page is a standalone web page that a person "lands" on after clicking through from an email, ad, or other digital location. Once they're on your landing page, users are encouraged to take any action, such as joining your list or buying your products.
Here are some amazing tools to create landing pages that you can connect with WordPress with the help of HTML or JS Code or with a plugin or you can also use them stand alone with a dedicated link that is not connected with your domain.
WordPress Plugin List for Google Analytics and Integration | Best WordPress Plugins
Google Analytics is a web analytics service offered by Google that tracks and reports website traffic, currently as a platform inside the Google Marketing Platform brand. Google launched the service in November 2005 after acquiring Urchin.
Google Analytics is one of the most valued tools used in the Web and App analytics space.
There is another Google Analytics 360 which is a paid tool for enterprise-level and this one comes up with more features than the free one.
Google Analytics 360 provides the tools and support that enterprise teams need to get actionable insights from their data. With Google Analytics 360, your team can access advanced tools, like sampled Reports, BigQuery Export, and Data-Driven Attribution, in addition to all the standard Analytics features and reports.
Connecting Google Analytics Tool with WordPress can be done through multiple methods.
You can do it through plugins, code tags, etc.
Here I have mentioned some of the very easygoing plugins that would help you connect Google Analytics with your WordPress website within a few secs. These plugins will let you do tag setups as well as without tags you can connect your Google Analytics.
WordPress Plugin List for Website Backup | Best WordPress Plugins
Website Backup is super important.
Be it your website is complex or not, you need a backup of the same as by any chance the website occurs any glitch or error and if that leads to website content loss or functional dispute, then you need to restore that.
Website Backup allows you to back up your site and related databases via FTP or SFTP to a secure cloud location. During the backup, we scan your files for malware and then store the malware-free copies for safekeeping. Backups start as soon as you set up your account.
Most of the hosting servers today offer auto backup, in the cheapest to cheapest packages. Like if you go with Namecheap, and you even get the most basic steller hosting i.e. shared hosting which allows you 3 domain parking under one hosting, that also allows you to have an auto backup saved of the website.
Here are some website backup tools.
WordPress Plugin List for Spam Comment Blocker | Best WordPress Plugins
Spam comments are irritating, harmful, and junk and create chaos in the WP backend.
Most of these plugins are not free. Even if you get a free one, then it does work properly. Probably for the first 1 week it will work then ask for taking a subscription.
Why Spam Comments are Generated in Your Blogs?
I would recommend having a paid tool/plugin for this concern or you can turn off your comments/discussions option before you publish the blog. Here are some qualitative plugins for the same.
WordPress Plugin List for Blog / Plan Subscription and Push Notifications | Best WordPress Plugins
Push notifications are an amazing feature for bloggers.
Push notifications are messages that can be sent directly to a user's mobile device. They can appear on a lock screen or in the top section of a mobile device. An app publisher can only send a push notification if the user has their app installed.
They can do a lot of things; for example, they can show the latest sports scores, get a user to take any action, such as downloading a coupon or let a user know about an event, such as a flash sale. Push notifications look like SMS text messages and mobile alerts, but they only reach users who have installed your app.
I am also using Push Notifications on my site, and here is a preview of the same.
There are several paid tools to set up Push Notifications and Subscription options. Free ones are not bad but not so great too because you do not get much options. If you are serious about your blogging subscriptions then you may go with a paid one, given that you are strategically doing this and willing to monetize it further. Else for try and testing you can rely upon free plugins as well.
WordPress Plugin List for Image Optimization | Best WordPress Plugins
Image Optimization is something that you would deal with frequently when it comes to building a website.
Optimizing web images is a process of delivering high-quality images in the right format, dimension, size, and resolution while keeping the smallest possible size. Image optimization can be done in different ways, be it by resizing the images, caching, or by compressing the size.
Why is Image Optimization Important?
Page speed – Large, unoptimized images can make your website slow and clunky like nothing else. Your users won't wait around for your website to load, and optimizing your images will go a long way toward ensuring that it loads quickly.
Here are two plugins at a free level that you can use to optimize your website images on WordPress.
WordPress Plugin List for Automated Chat Bots or Chatting Feature | Best WordPress Plugins
Does your website demand an automated chatbot or a chatbot in general?
These plugins will let you achieve this then.
A chatbot is a programmed chat interface a website visitors can interact with. They are programmed to closely mimic human behaviour and interact with the website visitor in a conversational manner. Chances are, you've used a live chat tool on a website.
Chatbots can acquaint users with new services and products from your website site. Delayed responses (which most customers dislike) from businesses result in lost sales. Chatbots can assist customers every minute of every day and offer quick responses. Consequently, the sales increased.
Here are some of the best plugins for setting up a chatbot.
WordPress Plugin List for WhatsApp Integration Feature | Best WordPress Plugins
WhatsApp Integration is a cool feature to stay on your website. Well, it's not much required for Blog sites or even eCommerce sites. But business sites get to enjoy the benefits of such a feature.
I myself use it on my business site i.e. www.soumendranathsome.com and here is a preview of the same.
The advantages of using WhatsApp Web on the computer, rather than from the phone are:
Communication is faster.
You concentrate your work tools in one place.
You have immediate access to your files.
You can set it up without a mobile phone.
Here are the dedicated WhatsApp plugins you can use for WhatsApp integration with WordPress.
WordPress Plugin for Mobile Page and Post Optimization | Best WordPress Plugins
Have you ever noticed that on mobile, the load time of blogs and web pages is usually faster than on a computer? Even if the blog is loaded with ads and affiliate sections, changes are still high and the page will respond faster.
Well, the reason for the same is the AMP of Accelerated Mobile Pages.
AMP i.e. Accelerated Mobile Pages ads functionality to your WordPress which makes your website faster for Mobile visitors. AMP is an open-source HTML framework developed by the AMP Open Source Project. It was originally created by Google as a competitor to Facebook Instant Articles and Apple News. AMP is optimized for mobile web browsing and intended to help web pages load faster.
On mobile search, the AMP icon helps users quickly identify pages that load quickly and smoothly. When users select an AMP page, Google Search retrieves the page from the Google AMP Cache, enabling a variety of load optimizations that often make these pages appear instantly, such as pre-rendering.
Here are some recommended plugins to set your WordPress pages super fast for mobile phones.
WordPress Plugin List for Website Optimization Feature | Best WordPress Plugins
Be it a WordPress website or a Coded website, optimization is a must-have activity. Website optimization is the process of using tools, advanced strategies, and experiments to improve the performance of your website, further drive more traffic, increase conversions, and grow revenue. One of the most critical aspects of website optimization is search engine optimization (SEO).
Keeping your website well-optimized means you keep it fast, have better uptime and do not lagging.
What are the Benefits of Website Optimization?
Increase traffic
Increase revenue via conversions
Improve brand visibility and brand awareness
Improve brand reputation and brand experience
Web accessibility compliance
Here are few good plugins to use for keeping your website fast.
Here is one for Video Optimization that you put across your website.
WordPress Plugin List for Website Cookies Set Up and Cookie Notice | Best WordPress Plugins
Website Cookies, or HTTP Cookies.
HTTP cookies are small blocks of data created by a web server while a user is browsing a website and placed on the user's computer or another device by the user's web browser. Cookies are placed on the device used to access a website, and more than one cookie may be placed on a user's device during a session.
What does it mean when it says a website uses cookies?
Cookies are small files that websites send to your device that the sites then use to monitor you and remember certain information about you — like what's in your shopping cart on an e-commerce site, or your login information.
What are the Advantages of HTTP Cookies?
User Friendly. Cookies are extremely user friendly
Availability. Cookies can also set to be made available for a longer period of time
Convenience. Besides websites, cookies can also remember information related to forms
Marketing
Configurations
Server Requirement
Here are the plugins you can use for setting up your HTTP Cookies.
WordPress Plugin List for Header and Footer Integrations | Best WordPress Plugins
Well, Header and Footer Plugins are required for tagging different HTML, or JS codes in the head or body or footer in your website to enable specific functionality. Though you can get it done with the theme editor on WordPress but having no technical knowledge of coding, that can go quite complex. Hence header and footer plugins are helpful.
Here are the plugins you can use for setting up your Header and Footer Tags.
Thanks for reading my blog.
All the best.
Click here to check out more insights on InsightCaja.
I am Soumendra, an Online Marketing professional and Content Pro, helping businesses to grow online with digital marketing.
To let you know, I train people in Online Marketing, Digital Advertising, Content Creation, Digital Marketing Analytics courses, SEO and the entire arena of Digital Marketing.
You can connect with me in need.